The cards.json file contains a list of card objects and includes every single card in the game. Note that in Hearthstone, everything is a card, even Heroes, Hero Powers and buffs (Enchantments).
cards.collectible.json is a restricted set which contains only collectible cards (cards which will show up in your collection and the base heroes). Please use this set if you do not need non-collectible cards in your app.
Example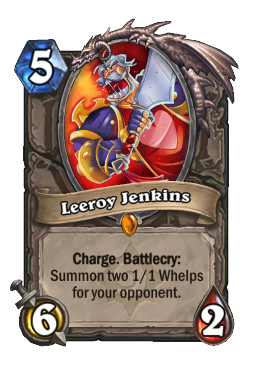 Fields
A card is an array of attributes. With noted exceptions, fields are only shown if they do not evaluate to 0 or an empty string.
The id (String) field identifies the card uniquely. Use it! For more info, see Card IDs.
The following attributes are available as non-localized string representations of enums (as described in the Enums section below):
rarity (Rarity enum). Note that the FREE rarity does not determine the presence of a rarity gem. Cards without a rarity gem are those in the CORE set.
faction (Faction enum). Although unused in Hearthstone, faction data for cards is (unreliably) stored. NEUTRAL cards do not display a faction attribute.
set (CardSet enum). Also determines the card's watermark. The collectible sets are CORE (basic, free cards), EXPERT1 (expert cards), NAXX, GVG, BRM, TGT, LOE, PROMO and REWARD.
cardClass (CardClass enum, previously named playerClass). DEATHKNIGHT is unused.
type (CardType enum). The only used types are HERO, MINION, SPELL, ENCHANTMENT (buff), WEAPON and HERO_POWER.
race (Race enum). Usually only available on minions.
The following attributes are localized strings:
name, text (card text), flavor (flavor text), howToEarn (how to earn the card; eg. reward, craft), howToEarnGolden (how to earn the golden version of the card) and targetingArrowText (the text when targeting something with the card)
The following additional attributes are available:
collectible (bool) determines whether the card is collectible.
cost (int) is the card's mana cost. Always shown, even if 0, except on hero and buff cards.
attack (int) is the card's attack value. Always shown on minions and weapons.
health (int) is the health value of the card. Always shown for minions and heroes.
durability (int) is the durability value of weapons. Always shown for weapons.
armor (int) is the armor value of heroes.
hideStats (bool) determines whether the card's stats (cost, atk, health) are supposed to be hidden.
Enums
Most values in Hearthstone are integer-based. Some of those integers are available as enumerations. The full list of Hearthstone enums is available in python-hearthstone - enums.py.
The mechanics attribute contains a sorted array of GameTag boolean enum string representations which are set on the card.
The following game tags are used in this field:
ADJACENT_BUFF, AI_MUST_PLAY, APPEAR_FUNCTIONALLY_DEAD, ADAPT, AURA, BATTLECRY, CANT_ATTACK, CANT_BE_TARGETED_BY_ABILITIES, CANT_BE_TARGETED_BY_HERO_POWERS, CHARGE, CHOOSE_ONE, COMBO, COUNTER, DEATHRATTLE, DISCOVER, DIVINE_SHIELD, ENRAGED, EVIL_GLOW, FORGETFUL, FREEZE, IMMUNE, INSPIRE, JADE_GOLEM, MORPH, POISONOUS, QUEST, RECEIVES_DOUBLE_SPELLDAMAGE_BONUS, RITUAL, SECRET, SILENCE, STEALTH, TAG_ONE_TURN_EFFECT, TAUNT, TOPDECK, UNTOUCHABLE, WINDFURY, ImmuneToSpellpower, InvisibleDeathrattle
Notes:
ImmuneToSpellpower is set on cards which do not increase their damage with spell damage like other cards (such as Arcane Missiles).
InvisibleDeathrattle is an internal tag, used mostly in boss cards.
AI_MUST_PLAY is set on AI hero powers which are auto-cast.
AUTOATTACK is a mechanic used in the Karazhan Chess scenario.
COUNTER is… essentially just Counterspell.
EVIL_GLOW is set on cards which glow red while in the hand.
FORGETFUL corresponds to "50% chance to attack the wrong target".
RITUAL corresponds to cards which buff C'Thun.
UNTOUCHABLE is used by minions which "do not count as minions".
TOPDECK is set on cards which are revealed to the opponent when drawn.
For overload and spellpower, look at overload and spellDamage properties.
Play Requirements
The playRequirements attribute contains an array of key: param values which determine various requirements which have to be met for the card to be played and what it can target. The key corresponds to a PlayReq enum string representation. Most play requirements ignore the parameter, which is thus 0.
Some (not all) play requirements are documented in the old PlayErrors.xml.
Entourage
The entourage attributes contains a sorted array of card IDs which represent the card's "entourage". Entourage is often used for cards which can create new cards randomly from a specific pool, such as Animal Companion or Ysera.